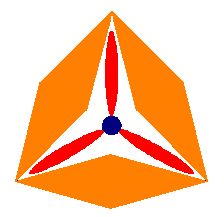 CAP ES Resources™ Page Information
TRADEMARK & COPYRIGHT
Civil Air Patrol Emergency Services Resources™ and its derivatives (CAP ES Resources™, Emergency Services Resources™, ES Resources™, and CAP ESR™) are Trademarks of the CAP Emergency Services Resources™ website. All materials on this site are copyrighted on their date of creation. ALL RIGHTS RESERVED. See below and elsewhere on this site for additional information regarding the licensed use of copyrighted information. All trademarks and copyrights must be used as described on this site.
PURPOSE
This site was created on 6 May 1998 and moved to its present and permanent home at www.CAP-ES.net approximately a year later. Originally starting as a solitary page, there are now hundreds of pages on this site. This website represents a new generation of information technology. Emergency Services information was previously spread through paper products--manuals, books, and leaflets. Today, we can have instant access and instant updates to this information by access to the internet. Coupled with the fact that this site presents information that simply cannot be found anywhere else, it is a veritable revolution in CAP Emergency Services. It is dedicated to Civil Air Patrol Emergency Services operators--whether you fly an airplane, drive a van, talk on a radio, or direct operations or fill out forms at mission base--the Civil Air Patrol Emergency Services Resources Page is dedicated to you.
HOST
Web page hosting has been graciously donated by Hensley, Elam and Associates, LLC www.hea.biz. It costs approximately $300 annually for the web host and Internic registration. No compensation or advertising is allowed on this site; it is run purely by member donation.
STYLE
The color scheme for this website is no accident. Orange is a very traditional Emergency Services color for a very good reason. "Blaze" or "hunter" orange is a color that cannot be found in nature. It contrasts with everything. It is the color of ES hats, signal panels, and even some airplanes. I hate to say it, but the Navy figured one good thing out when it did that. The blue accents on this site were also chosen for a reason: it is Air Force Blue, representing our parent organization. Together, these colors contrast very nicely for readability and display our heritage.
IMAGES
The images on this site were taken from many different sources. Most are original to the author(s). You will find that many of the CAP logos on the internet today actually originate from this site--which has been online nearly 10 years!
STATEMENT
The remainder of this page lists legal disclaimers and other boring information. It is necessary for our exceedingly litigous society. BY USING THE PAGES IN THIS SITE, YOU AGREE TO THESE TERMS AND CONDITIONS. If you do not agree, you must not use this site. This site exists solely for the convenience of Emergency Services Personnel.
REGISTRATION
Any person utilizing a piece of material downloaded from this page is requested to mail: es_god(at)hotmail.com to notify of that use. This "registration" is solely to determine for what purpose the information, graphics, or texts are being utilized and any information derived from that will be used only to serve those customers better. Privacy will be maintained. All remarks, suggestions, ideas, graphics, or other information communicated to the publisher through this site will forever be the property of the publisher. Without limitation, the publisher must have exclusive ownership of all present and future existing rights to the submission of every kind and nature everywhere. You acknowledge that you are responsible for whatever material you submit, and you, not the publisher, have full responsibility for the message, including its legality, reliability, appropriateness, originality, and copyright.
RESTRICTIONS
The material in this site is provided for lawful purposes only. You are only permitted to download items specifically intended for that purpose. If you download software from this site, the software, including all files, images, contained in or generated by the software, and accompanying data (together, the "Software") are deemed to be licensed to you by Scott E. Lanis (heretofore, "the publisher"). Neither title nor intellectual property rights are transferred to you, but remain with the publisher, who owns full and complete title. You may not sell or resell the intellectual property gained here or derivations thereof. This does not prohibit local editing or modification of software expressly made available for download. Adapting of these downloaded software materials for local use is, in fact, encouraged. As a courtesy, please inform the publisher as to what kinds of modifications you found necessary. Please note that this policy prohibits transfer, copy, modification, mirror, and reposting of the web pages, text, scripts, images, and related files on this site. If you like the materials on this site, then please bookmark them, DO NOT MIRROR WITHOUT EXPRESS PERMISSION OF THE WEBMASTER. This is intended to preserve the intellectual property rights of the author(s). Exception: materials specifically listed as originating from another source provided you have permission from said third party source. As part of the license, you are permitted to print (hard copy) and reproduce unlimited numbers of pages from this site provided they are not for profit or sale.
LIMITATIONS
No warranty is made on the information posted in these pages. Anyone utilizing the information herein does so at his or her own risk. The pages in the "CAP Emergency Services Resources™" group are posted for informative use. Information posted can only be as good as that supplied, so your comments and help is always welcome at the email address listed below. This site is operated voluntarily by the publisher and may be discontinued at any time at the pleasure of the publisher. The publisher will not be liable for any damages or injury caused by, including but not limited to, any failure of performance, error, mission, interruption, defect, delay in operation of transmission, computer virus, or line failure. The publisher will not be liable for any damages or injury, including but not limited to, special or consequential damages that result from the use of, or the inability to use, the materials in this site, regardless of any level of negligence.
PROPERTY
These pages and their contents are solely that of the publisher below. The intellectual property published here WILL NOT and MUST NOT be used for profit or financial gain. Any views expressed or implied do not necessarily reflect the official views nor indicate any endorsement of Civil Air Patrol Inc., the United States Air Force, or the United States Government.
USE OF MATERIALS
All material is copyrighted by the publisher. Materials may be used, copied, transmitted, referenced, modified, or transferred in any way or by any means, however, if APPROPRIATE CREDIT AND MENTION is given and no monetary credit is received in their use. This means you can edit anything here for your own use so long as you say, "thanks," the publisher's name remains somewhere on the page that contains my materials or derivations thereof, and that you let the publisher know what you're doing with it AND you don't sell it. Any copyrighted material that is not copyrighted by the publisher is posted with the permission of the original author or unintentionally. Reasonable and good faith efforts have been made to ensure that such material does not exist at this site. The right to post copyrighted materials is reserved by the publisher with appropriate notice. APPROPRIATE CREDIT is defined as, at a minimum, the author's name (Scott E. Lanis) and copyright date on every page that contains his copyrighted materials or derivations thereof.
CONSTRUCTION
This site was originally constructed manually using text-only editors. Now Frontpage 2003 SP2 is used to create this site.
LAWFUL JURISTICTION
Except as described otherwise, all materials in this site are made available only to provide information about Civil Air Patrol Emergency Services. The publisher controls and operates this site in the United States of America and makes no representation that these materials are appropriate or available for use in other locations. If you use this site, you are responsible for compliance with applicable local laws. Some software from this site may be subject to export controls imposed by the United States and may not be downloaded or otherwise exported or reexported: (a) into (or to a national or resident of ) any country to which the U.S. has placed an embargo, including without limitation, Cuba, Iran, Libya, North Korea, Syria, or Yugoslavia; (b) to everyone on the U.S. Treasury Department's Specially Designated Nationals list, or (c) the U.S. Commerce Department's Table of Denial Orders. If you download or use the Software, you represent and warrant that you are not located in, or under the control of, or a national or any such country or on any such list.
DISCLAIMER
The material in this site could include technical inaccuracies or typographical errors. The publisher may make changes or improvements at any time. THE MATERIALS IN THIS SITE ARE PROVIDED "AS IS" AND WITHOUT WARRANTIES OF ANY KIND EITHER EXPRESSED OR IMPLIED, TO THE FULLEST EXTENT PERMISSIBLE PURSUANT TO APPLICABLE LAW. THE PUBLISHER DISCLAIMS ALL WARRANTIES OR MERCHANTABILITY AND FITNESS FOR A PARTICULAR PURPOSE. THE PUBLISHER DOES NOT WARRANT THAT THE FUNCTIONS CONTAINED IN THE MATERIAL WILL BE UNINTERRUPTED OR ERROR-FREE, THAT DEFECTS WILL BE CORRECTED, OR THAT THIS SITE OR THE SERVER THAT MAKES IT AVAILABLE ARE FREE OF VIRUSES OR OTHER HARMFUL COMPONENTS. THE PUBLISHER DOES NOT WARRANT OR MAKE ANY REPRESENTATIONS REGARDING THE USE OF OR THE RESULT OF THE USE OF THE MATERIAL IN THIS SITE IN TERMS OF THEIR CORRECTNESS, ACCURACY, RELIABILITY, OR OTHERWISE. YOU (AND NOT THE PUBLISHER) ASSUME THE ENTIRE COST OF ALL NECESSARY SERVICING, REPAIR OR CORRECTION.
TERMINATION
The publisher or you may terminate this agreement at any time. You may terminate this agreement by destroying: (a) all materials obtained from all the publisher's sites both physical and electronic, and (b) all related documentation and all copies and installations (together, the "materials"). The publisher may terminate this agreement immediately without notice if, in its sole judgment, you breach any term or condition of this agreement or simply at the pleasure of the publisher. Upon termination, you must destroy all materials. You agree to these terms by use of this site.
MISCELLANEOUS
These Terms and Conditions will be governed and be interpreted pursuant to the laws of the United States of America, notwithstanding any principles of conflicts of law. If any part of these Terms and Conditions is unlawful, void, or unenforceable, that part will be deemed severable and will not affect the validity and enforceability of any remaining provisions. Possible evidence of use of this site for illegal purposes will be provided to law enforcement authorities. This is the entire agreement between the parties relating to the use of this site. The publisher can revise these Terms and Conditions at any time by updating this posting. This site may be linked to other sites which are not maintained by the publisher. The publisher is not responsible for the content of those sites. The inclusion of any link to such sites does not imply endorsement by the publisher of the sites. UNAUTHORIZED ATTEMPTS TO UPLOAD OR CHANGE INFORMATION ON THIS SERVICE ARE STRICTLY PROHIBITED AND MAY BE PUNISHABLE UNDER THE COMPUTER FRAUD AND ABUSE ACT OF 1986.
SYMBOLOGY
Of all the images on this site, one of particular importance is the symbol pictured to the left.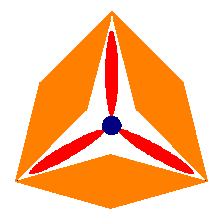 Entitled, "3 Diamonds, 3 Missions," it is a personal trademark of the publisher. It is also steeped in tradition. The orange color of the diamonds is significant because it is the color of CAP Emergency Services. Each diamond by itself represents the main Emergency Services missions of Civil Air Patrol--Search and Rescue, Disaster Relief, and Counternarcotics. The three diamonds together represent the Civil Air Patrol General Carl A. Spaatz award and its high ideals of leadership and service. The tri-bladed propeller is familiar to us in Civil Air Patrol, and is representative of the three equal missions in which we participate--the Cadet Program, Aerospace Education, and Emergency Services. The color red represents the bloodshed we aim to prevent and contain through our altruistic efforts. The background white represents purity and clarity--qualities we endeavor to always retain. The blue circle in the center of the design represents the continuous training that must take place in order to be prepared for potential emergencies.
CAPR 110-1
"LINKS OR REFERENCE TO INDIVIDUALS OR COMPANIES DOES NOT CONSTITUTE AN ENDORSEMENT OF ANY INFORMATION, PRODUCT OR SERVICE YOU MAY RECEIVE FROM SUCH SOURCES." The CAP ES Resources™ website voluntarily complies with CAPR 110-1 but asserts itself as a separate entity not controlled by said publication(s).
WEBMASTER
The Webmaster has been a CAP member since early 1989. He has attended numerous schools and received various CAP awards, most notably the Spaatz Award. He is an Incident Commander, Command CAP pilot, Ground Team Leader, and holds many other 101 specialty ratings. He has served in the US Air Force since 1991. He currently pilots combat aircraft in the USAF.