Modification 4: Power Options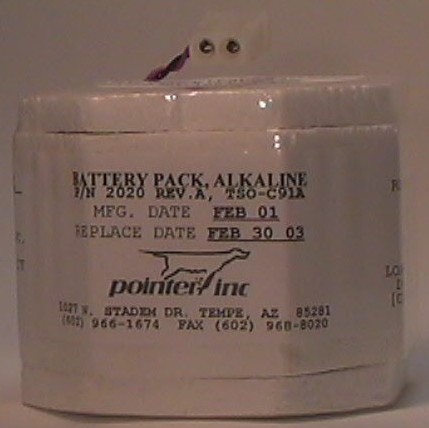 Many users wish to power their practice beacons by something other than the batteries provided by Pointer. Please note that doing so will void your warranty!
The original battery supplied by Pointer is a "real" ELT battery and will therefore have an expiration date. The original battery is Part Number 2020, and costs around $25 - $35 US. You will find that this battery will generally last a long time. Additionally, the supplied alkaline battery pack specifically designed to endure short term extreme thermal variations and mechanical shock. The bottom line is that it is a good battery, but is expensive over the long haul. Since it is usually much easier and cheaper to pick up batteries from your local retailer, modifying your beacon to use a different power source may be for you.
There are a great number of options available to power your beacon. If you wish to have a new battery, another ELT manufacturer makes batteries for Pointer ELTs. The manufacturer is Artex, Inc., and the part number is 00-30-006.
A very good option is to use expired batteries for real ELTs. ELT batteries must be periodically replaced by an aircraft maintenance technician. If you ask around at your local airport's Fixed Base Operator (FBO), the mechanics there may be willing to donate the expired batteries that they remove from actual ELTs. Providing they are the same type, they will work wonderfully in your Practice Beacon. It shouldn't take too much convincing for the FBO since they would throw these batteries away otherwise. In fact, they likely will not have any lying around and will have to specifically save them for you. Please note that if you are disposing of ELT batteries in bulk that they are considered hazardous waste and need to be disposed in an environmentally friendly way (by law).

If you use the battery supplied by Pointer or another ELT battery, you will not be able to modify the power output of the beacon. Pointer even talks about home-made battery packs and some of the options you might want to consider on their Pointer 6000 web page. This short page also discusses the frequency reassignment that was required more than a decade ago. In summary, it states that in designing a power source you should use 8 volts maximum. At 7.5 volts, the nominal power output of the beacon will be 150 milliwatts. The original batteries supplied by Pointer test at 7.5 volts as well. You might wish to note that by specification the power output of most ELTs is 100 milliwatts (TSO C-91 and C-91a beacons ELTs), and 25 milliwatts for 406 MHz ELTs (TSO 126). To simulate a beacon that is transmitting at low power, Pointer suggests using a 6 volt power supply. They further suggest that you can shorten the telescopic antenna to simulate a broken antenna.
If you're still reading this and your eyes haven't glazed over, you likely already know that a fresh AAA, AA, C, or D cell alkaline battery supplies approximately 1.5 volts. Therefore, for a 7.5 volt battery back you will want to use 5 batteries in series. For a 6 volt battery back you would want to use 4 batteries. Rechargeable batteries (such as Ni-Cads) typically output 1.2 volts apiece, so adjust your planning accordingly (5 x 1.2 = 6.0, 6 x 1.2 =7.2). Of course, D cells will last longer than the other types. D cells may also be more likely to give sufficient voltage in cold weather. D cells can be rapidly replaced, are readily available just about anywhere (such as the gas station at midnight), and are small enough that you should be able to fit a spare set inside of an ammo can setup.
Begin by unscrewing the back panel. Use a voltmeter to ensure the polarities between your battery pack and the original battery match. If you improperly connect the wires, you will damage the practice beacon. Of course, you should be able to determine positive and negative terminals from the way the original batteries are shaped. It is always better safe than sorry, though, so run the voltmeter.
At this point you have several options. They are:
Option 1: Keeping the battery pack inside of the beacon housing
Using this option allows the most portability of the beacon. Externally the beacon will be identical to a new beacon as shipped from the factory. This will allow for the easiest use as well. A battery holder for AA batteries will fit inside the case. Unless you fabricate a battery pack as shown below, that is just about the only option (excluding, of course, the standard p/n 2020 battery from Pointer).
Option 2: Place the power source outside the beacon housing.
This is the most common option. You will need to solve several problems for this to work well. First, you will need to determine how you will run wire from inside the beacon container to your battery pack. You will probably have to drill a small hole in the casing of the Practice Beacon to admit the wires. This will compromise the waterproof seal of your practice beacon, so liberally apply hot glue or another sealant if this is important to you. You could also mount a barrel-style power adapter that can connect directly to the beacon. For example, Radio Shack part #274-1563, "DC Power Jack, panel mount, Size M." You will be able to find the electronic components listed on this site at an decent electronic parts house, to include internet catalogs. Radio Shack part numbers are included because a Radio Shack store can be found nearly anywhere in the nation.
Option 3: Keep a battery pack inside the beacon while allowing for an external connection for power or charging
This option allows the practice beacon to run off the internal battery when disconnected from external power and also has an external adapter (as described in the Option 2) to allow for charging OR to power the beacon, depending on your design. The CAP Emergency Services Resources™ website is aware of a modification that allows a user to plug in virtually any low DC voltage (6 - 35V) to power the beacon and also automatically isolates the battery. This information will be provided as it becomes available.
Since your battery pack is outside of the beacon for options 2 or 3, you will need a method of keeping everything together. An excellent idea is to construct a Practice Beacon Box from an ammo can as outlined on this site.You must also choose what will power your beacon. In addition to AAA, AA, C, and D cell batteries, you may also use a 6 volt lantern battery. The advantage of this battery is that you only have to deal with the single cell and you don't need a holder.
Speaking of battery holders, if you wish to use the 5 D-cell configuration, you would probably like to know that Radio Shack carries battery holders for most battery sizes. For example, a single D Battery Holder: Radio Shack Part #270-403 and a 4D Battery Holder: Radio Shack Part #270-396. Arrange multiple holders in series (if required).
Run the wires from your battery assembly to the Practice Beacon. If they are not long enough to mount them in the box, add additional wire. You can use the molex-style wire connector from the old batteries to the new standard battery holder. This facilitates easy swapping of battery packs.
When complete, you will wish to secure the battery pack inside your beacon box. Hot glue or velcro are good options.
The following is an excellent example an elegant solution using rechargeable batteries. This information was submitted by 1Lt John C. Hill, CAWG Group 7 ES Officer. Many thanks, John, GREAT WORK!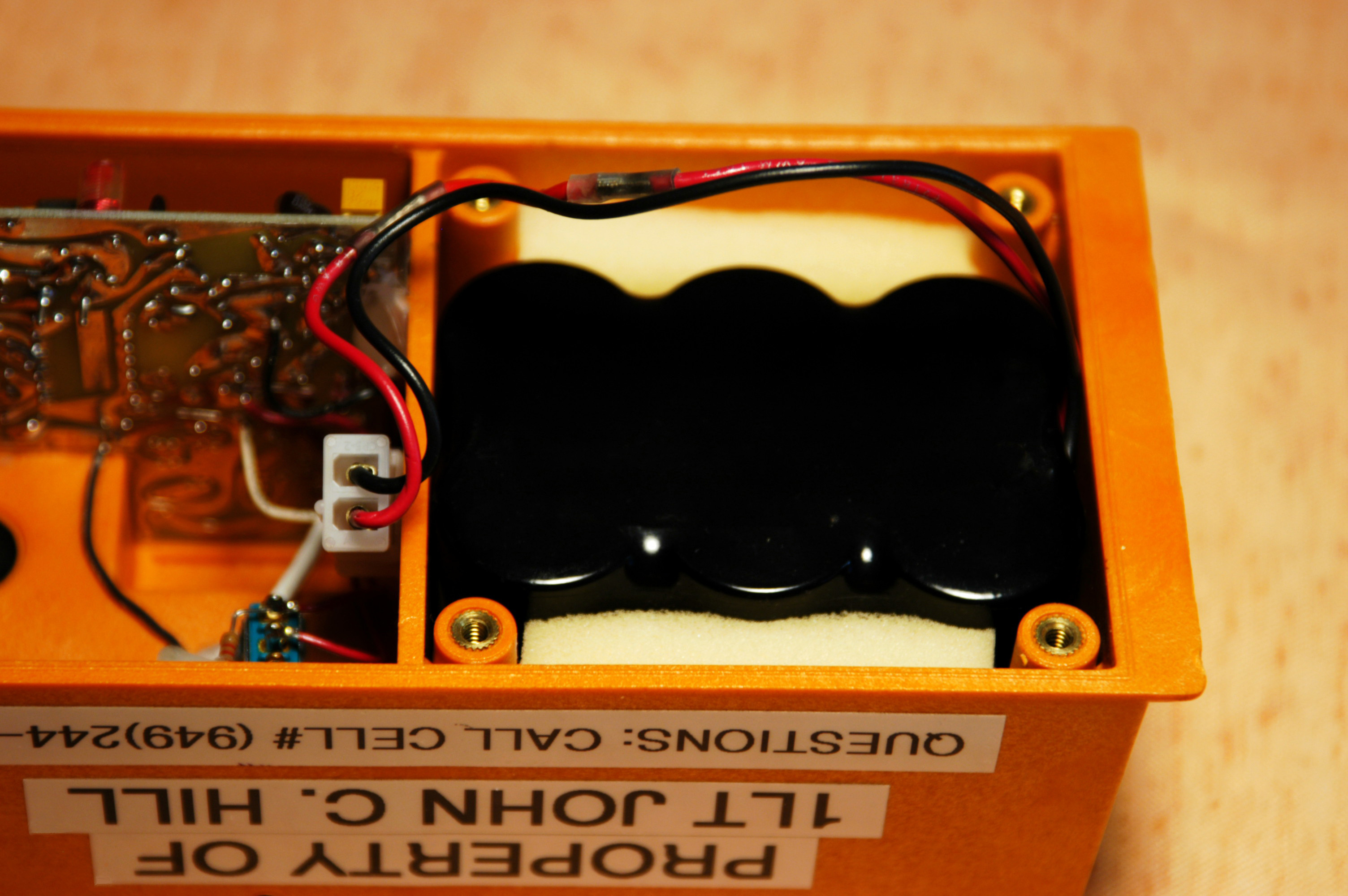 The battery pack consists of six(6) SANYO N-3000CR "C" cells. These are 1.2 volt NiCAD batteries that, connected in Series, add up to 7.2 volts.
The Series Connections between batteries are thin metal straps that are spot welded in place. Any battery pack company (for example, "Batteries Plus") will be able to do this spot welding using a desktop welder. This machine is only about the size of an espresso maker. Welding should cost about $5. That should also cover professional soldering of the pigtails, and application of heat shrink wrapping of the whole assembly. Including the cost of the batteries, the whole thing will end up costing about $50. There is no performance data yet for how long the beacon will last between charges.
The molex-style battery connectors can be found in an AMP 618-2 package. This package contains two (2) male/female and socket/pin pairs. You might end up with more connectors than you need, but they're cheap. The package is identified as TYCO / Electronics, AMP, General purpose Connectors, 2 Position Free-hanging 20-14 AWG, And is distributed by GC/Waldon. There are two Part Numbers on the back, AH1680 and 05165. Your local parts supply house or an AMP catalog will yield the individual male connector and sockets required to mount to the practice beacon.
Currently the beacon must be opened to recharge the battery pack, but 1LT Hill is working on an external connector as described in the options above. This will allow an external charger to be plugged into the POINTER 6000 without having to take it apart. A MAHA 777+ charger could be plugged into the power connector or even a standard wall-cube type module power supply. Isolation of the battery for charging is being examined.
Note the close fitting of the battery pack in the photo above. Also note the nice detail of adding the foam to stabilize the battery pack.